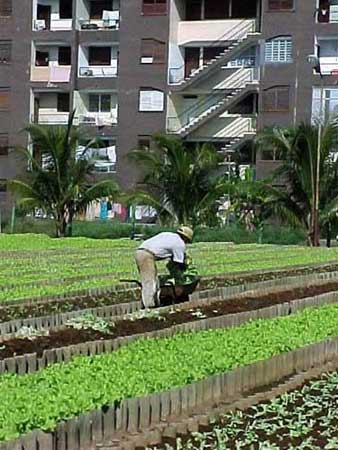 PUNE: Multi-storied buildings, apart from providing residential and commercial space, can also take care of the city's basic food needs.
Pune has grown to encompass large tracts of agricultural land in its backyard which provided supplies of vegetables and fruits. Now, it gets them from the corners of Pune district and far-off places in South Maharashtra.
This is why experts are keen on vertical urban agriculture where, as the city grows height-wise, multi-storied buildings with vertical farms can take care of these needs.
The city is set to have more high rises as the steering committee on urbanisation has backed several measures including higher Floor Space Index (FSI) for high-density growth. This would directly impact food needs as more agriculture land will be converted into residential zones.
Pune has its share of terrace kitchen gardens, hot houses inside flats, use of empty parking space and vertical gardens. But, the future is in vertical urban agriculture where high-rises provide a temperature-controlled environment to grow fruits, vegetables, and flowers.
They can be grown hydroponically (nutrient-enriched water) or aeroponically (nutrient-enriched air), without the need for soil or compost. Experts said some floors can be dedicated to growing rice and others to growing fruits.
Vertical farms on the periphery of the city can process their own garbage and use gray water, acting as a water-purification method for the surrounding city and providing clean drinking water, experts said.
Tillable land in the city's fringes is shrinking. Moreover, 20 fringe villages are set for a merger with the Pune Municipal Corporation, throwing open thousands of acres of farmland for development. A consensus-building exercise urging corporators to approve the merger proposal is currently underway.
A few years ago, 938 acres of agricultural land in Mundhwa was converted to residential use. Mundhwa, largely agrarian till the conversion of land use, grew sugarcane on vast tracts. The civic body also approved another proposal to convert agricultural tracts in Lohegaon, Pashan and Sangamwadi for residential use.
Pune is among five districts in the country with the 'most significantly degraded' land. A report, 'Impact of climate change on land degradation over India', compiled by researchers of the National Climate Centre (NCC) of the India Meteorological Department (IMD) last year stated that rapid urbanization and industrialization are among the factors responsible for the quality of land changing for the worse and if the degradation continued, large tracts could become useless for farming.
The Pune Municipal Corporation had initiated a city farming project in 2008 where citizens were encouraged to grow vegetables and crops on allocated land. The civic body started the process of acquiring a three-acre plot in Salisbury Park and announced a plan to provide land, seeds, fertilisers and water free to interested persons and help them market the produce.
"The project was not a profit-making venture, but a step towards an eco-friendly initiative. It was to allow people to experience the joy of farming and provide quality produce. However, the top officials never showed any interest in the project and the garden department was not encouraged enough to go ahead with it. No political party supported the experiment. As the result, the idea died," a former PMC official, who part of the team that initiated the project, said.
Some groups like Abhinav Farmers' Club have introduced a 'kitchen garden' concept to over 350 flat owners in the city and are working with another 300 orders.
"We offer help at a price to those who want to grow brinjal, cauliflower, garlic or other vegetables at home. The customer gets a set of pots with vegetable plants, a chart of instructions for watering and harvesting of the produce, a pair of scissors, a pesticide spray pump and a box with earthworm cultured soil which can convert kitchen waste into fertilizer. If the person spends 15 minutes daily for the kitchen garden, he can get two kg vegetables every week," Dnyaneshwar Bodke, founder and chairman of the club, said.
But the concept is not growing as fast as expected. "People pay attention to plans till we provide the service for a year. They then begin to neglect it," he said. Urban agriculture is the only way to sustain flow of agri products to growing population, he said.
"Getting vacant plots for agriculture in the city is impossible. Peri-agriculture seems a distant dream with farmers inclined to develop their farmland for constructions which yields more money," said Ramchandra Gohad, former town planner and a member of the Pune Metropolitan Regional Development Authority land acquisition committee.
Food and Agriculture Organisation (FAO) has envisaged urban agriculture in small areas like vacant plots, gardens, verges, balconies and containers within the city to grow crops and raise small livestock or milk cows for self-consumption or sale in neighbourhood markets. Peri-urban agriculture refers to farm units close to cities which operate intensive semi-or fully commercial farms to grow vegetables and fruits, raise chickens and other livestock, and produce milk and eggs.
Urban and peri-urban agriculture occurs within and surrounding areas of cities and includes products from crop and livestock agriculture, fisheries and forestry. It also includes non-wood forest products, ecological services provided by agriculture, fisheries and forestry. Often multiple farming and gardening systems exist in and near a single city.
"We must look for more innovative urban agriculture than growing plants in balconies. Vertical farming includes technology to use city space for growing plants and vegetables in high-rises buildings. When we construct buildings in urban areas, the facade is developed as a greenhouse to grow vegetables," Hans Hassle, CEO of Stockholm-based Plantagon Company, said.
Systems and technologies for urban agriculture should be developed with minimal use of ground area for buildings, multiplying the building footprint vertically in several levels, he added. "It will also be important to integrate the building on site and adapt it to site specific light conditions since it will be placed within the existing urban fabric in cities. The verticality will be important in cites to optimize the production of food and the functionality of buildings." Hassle told TOI.
According to Plantagon, growing crops in a controlled environment has benefits -- no animals to transfer diseases to plants through untreated waste; no massive crop failures as a result of weather-related disasters; less likelihood of genetically modified "rogue" strains entering nature. And, without herbicides, pesticides, or fertilizers agricultural runoff is not a big a big problem.
Eating into agriculture land
In 1997, 36 villages were included in the Pune Municipal Corporation (PMC) limits. As a result, the PMC limits increased from 146 sq km to 450.69 sq.km. After a few villages were delinked, the PMC's area was reduced to 243.96 sq.km.
The state government's relaxation of restrictions on conversion of agricultural lands to non-agricultural uses has led to agricultural land in the fringes of the city like Hadapsar, Mundhwa and Kondhwa, Sinhagad Road and Wadgaon Dhayari becoming residential.
The government ordinance in 1994, which stated that permission for non-agricultural use of agricultural land is not required in areas where the Regional Town Planning Act, 1966 is in operation or a legally declared industrial zones exists or is finally accepted or proposed also boosted such growth.
Moreover, in November 1996, the government threw open hilltops, slopes and forest areas in the state for development as hill stations, tourist and holiday homes. This brought private players to the scene.
Plantagon cultivation system
The idea is to grow vegetables in pots put into trays transported around the growing helix where the cultivation takes place.
The trays are equipped with a light sealed nutrient solution reservoir, and the pots are irrigated about three times per day using an ebb-and-flow technique. A capillary mat at the bottom of each tray protects the individual plants from drought. Excess nutrient solution is collected and reused after disinfestation.
The different system designs have the same production flow and location of equipment. The machinery is located in the basement on one or two floors and the trays are transported to the top of the helix by a special tray elevator.
The crops grow during the slow transport down the helix and are ready for harvesting when they reach the end of the helix at the basement level. Food is harvested in batches using an automatic harvesting machine. After harvest, the trays and pots are disinfected, and the pots are separated and replanted with another seed for the next round in the cultivation loop.
After germination, the pots are recombined with the trays and elevated to the top of the growing helix to repeat the process.
(Source - Plantagon, Stockholm)