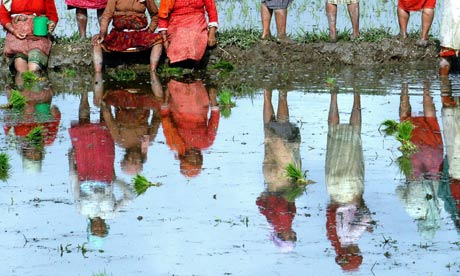 Women take a break from working on a paddy field on Kathmandu's outskirts. An FAO report says gender equality creates better yields. Photograph: Narendra Shrestha/EPA
Productivity losses due to the agriculture "gender gap" are straining global economies, a conference has heard. This was the consensus of gender scientists and agricultural researchers at a workshop in Malaysia that aimed to develop an agenda for gender transformative research for the agricultural sector.
The conference, held in Penang this month, was convened by the CGIAR Consortium. According to Paula Kantor, a senior gender scientist at the Malaysia-based WorldFish Centre, gender disparities persist in "access to resources, markets and technologies, even after decades of research and interventions on gender".
"Women play a significant role in development," Kantor said. "[But] their abilities to contribute to rural development and family wellbeing are limited by inequalities in choices of occupations, wages and incentives; responsibility for care work; and access to, and control over, productive resources."
A report from the Food and Agriculture Organisation (FAO) has revealed that farm yields increase by up to 30% if women are given the same access to productive resources, markets and technologies as men. "This could raise total agricultural output in developing countries by 2.5-4%, which could in turn reduce the number of hungry people in the world by 12-17%," said Kantor.
Gareth Johnstone, Cambodia country manager for CGIAR's research programme on aquatic agricultural systems, emphasised that most development policies were addressed with only men in mind. Johnstone said creating situations in which both men and women are engaged in decision-making is one very "basic method" of applying the gender transformative approach to policy. "Such basic actions will promote female empowerment and increase mutual respect between men and women," he said.
Johnstone believes this will not only lead to improvements in farm yields, but will also bring positive benefits for family and community welfare, nutrition and child wellbeing. "Seeing real people making changes inspires others to believe it is OK to do the same," said Kantor.
Johnstone suggested that educating the public would require detailed documentation and the rigorous study of local and regional societal norms. "Unlike structured organisations, such a change would require a bottom-up approach rather than a top-down approach … [based on] ineffective, insufficiently studied governmental intervention and policies," he said. "There must be a vision shared with people on the importance of gender balance in society, and [the development of] a basic understanding of female empowerment."